Clusterfucks are Fun!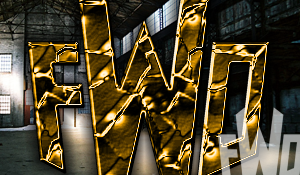 Well, it's the last show before Cyberslam, which is always fun, and the card looked pretty packed from the website preview. Let's see how things turn out, shall we?
-Opening Interview: fWo United States Champion Borst is out to annoy the fans. Wow, when you even make your own hometown hate you, you're a real bastard. Borst runs down Brand Frontier, bringing Brand out, and a misplaced comment by Borst turns their match at Cyberslam into an Iron Man Match! Whoa. That should be interesting- Brand Frontier's certainly got the talent to pull it off, but Borst? Can the former fighter who hasn't shown all that much wrestling skill since coming to the eff-dub pull off an hour-long match? It should be interesting, even if the outcome of the match is obvious.
-Silver Fox chats to someone on the phone, who by his comments we assume to be Matryr.
-Eli Flair vs. Scott Slugger. ***1/2 This was a great, great TV match only slightly ruined by the ending. I shudder to think what would happen if these two were given 20 minutes on PPV with a clean ending. Afterwards, Kinkade bloodies Slugger and then gives him the Dying Breath on the chair, and grabs a mic. We get the explanation for the past month or so and then Kinkade promises that more is to come. Well, Slugger's basically a face from sympathy alone after going through the Winters ordeal and now this. Hopefully they don't keep this heel vs. heel.
-Pretty Fly finds the perfect gimmick.
-The Losers From Slaughter, Rush and Griff Truxell, get into a confrontation to lead to a match tonight. Well, when you're in need of spots to fill, you can just MIX AND MATCH THE MIDCARDERS~!!!, I say!
-Triple X and Poison Ivy have a chat, as I continue to smell a heel turn.
-Ric Chronos vs. Scotty J. Bowman. The match sees Scotty J. nearly pick up the win several times in the end, but Chronos takes off his loaded kneepad and swings it at Bowman, knocking him out cold, and that gets a three count at 5:30. **1/2 Okay match, but if Chronos was going to win they could have let him have a little more offense. And what's with a master techinican and someone who could probably keep up with him having a spot match? Still, good enough for a five-minute match.
-Mitch Wilson makes an offer to Kellen Kinkade to help him take down Scott Slugger. Good, Wilson's staying as a heel anyway, and he and Kinkade have a unique dynamic.
-Padrona and Deacon agree to face each other in a Ladder Match at Cyberslam.
-The Dynamo vs. Carson Covington. The mix-and-match midcarders continue, as the winners from Slaughter face each other. The finish sees Dynamo hits another big boot into the Dynamo Driver, and manages to get one arm over Covington, but Covington kicks out before three! As both men get back up, Carson hits a millenium suplex, and this time gets a three count as Dynamo kicks out one second too late at 9:17. *** Another good 10-minute TV match. Both men got enough back-and-forth offense for a three-star rating, but the ending still came out of nowhere.
-'Undeniable' Voran Xias is interviewed by Kristen Jacobs backstage, as he lets us all know that Monte Burns will absolutle not, definitley not, CROSS-MY-HEART-AND-HOPE-TO-FUCKING-DIE not be there during his match with Brand Frontier. If you actually believe that, raise your hand. Good, thought so.
-We learn in a discussion between Eli Flair and Triple X that Trip has a concussion and shouldn't be wrestling tonight or Cyberlsam- which is apparently news to Trip.
-Rush vs. Griff Truxell. Rush pins Griff after a Star Dust Splash at 4:20. ** Too short to go anywhere, but okay for what it was.
-Scott Slugger lays down a challenge to Kellen Kinkade, but that's interrupted by Mitch Wilson as we'll apparently get a Triple Threat Match later tonight, as RAGNAROK EXPLODES~!!!! Uh, sorry.
-Team EQ is out for an interview, but that's interrupted by Jon Crisp and Chris Tyson, then The Elitists, then BQ. Apparently, Team WTF is out of the tag team title match.
-The Codemaster is tortured by the Tallywhackers in order to get Fuse Bros.-Tallywhackers at Cyberslam. And they apparently used Street Fighter: The Movie to torture him! Okay, that's taking things TOO FAR, guys.
-fWo World Cruiserweight Championship: Spyder (c.) vs. Padrona. The usual good Spyder cruiserweight match ends when Neo pulls Padrona out of the ring for the cheap DQ at 6:15. **1/2 Okay, but who does Spyder defend the title against at Cyberslam?
-Triple X gets attacked. Again. Well, that's some shitty luck he's got there.
-We have a confrontation backstage as Mitch Wilson goads Ric Chronos into a Cyberslam match, Double or Nothing in the TCS, that effectivley makes the rest of the matches in the series completley useless. Oh well.
-Carson Covington basks in his heelness, while Griff Truxell gets annoyed.
-Great Dragon vs. Ric Chronos. This was the techinical marvel you'd expect between the two that ended when Chronos passed out in the Stretch Plum at 11:07. **** I have nothing else to add that could possibly sum up the greatness of this match, so I'll just say that Dragon and Chronos rule and leave it at that.
-Borst watches himself breaking 21W Champion Ace Carter's leg.
-Then we get a Flashback with Borst destroying the SlaughterTron. This is classic stuff, people. Oh yeah, and I really miss Primetime and the Strangler.
-Jon Crisp denies any involvement in the attack on Triple X, as Chris Tyson has a tape that we ABSOLUTLEY, POSITIVLEY HAVE TO SEE~!!!
-Scott Slugger vs. Mitch Wilson vs. Kellen Kinkade. Before I can finish writing this, Mitch hits the Headliner on Scott and lets Kinkade pin him at 0:53. DUD Yeah.
-The Tallywhackers and Pretty Fly have a segment I refuse to cover for moral, personal reasons. And man, those Tallywhackers are so cliche.
-Team WTF gets back in the tag title match for various reasons and the match is changed to a "War of Attrition". Okay.
-'Undeniable' Voran Xias vs. Brand Frontier. The usual good match between these two ends at 6:03 when Monte Burns interfers and Voran loses by TKO. **3/4 Good match, but longer and no interference would have been nice. Oh yeah, and VORAN WINNING! Sorry, that was the Voran mark in me.
-fWo World Cruiserweight Champion Spyder lets us know that there will be a battle royale for the title at Cyberslam, with Neo as the special guest referee. Cool, every good card needs a SPOT-FEST~!!!!
-fWo Hardcore Champion Martyr brags that he'll beat Aimz injured at Cyberslam for the belt, and then reveals that Cyberslam will apparently be the fWo's last show ever before we switch to static. Weird angle, guys.
-Clusterfuck Deluxe: 'Undeniable' Voran Xias vs. Brand Frontier vs. Borst vs. Aimz vs. The Elitists vs. Team EQ vs. Team WTF~!!! vs. Eli Flair vs. Steven Shadows. Everybody hits everybody, until only The Rat Pack are left standing and Poison Ivy lays down the law for Cyberslam. Clusterfucks rule.
-And finally, we end the show with a final confrontation between fWo World Heavyweight Champion Erik Kelly and challenger Kodiak Vic Creed. While not a techinical classic, that should still be one hell of a match at Cyberslam.

The Bottom Line
With more great wrestling than you can shake a stick at, some good segments, and the fun clusterfuck and then Kelly-Creed confrontation to end the show, this was a textbook hard-sell. WWE should be taking notes.
Until next time, this is Powell signing off. See you at Cyberslam!