fWo Wrestling Home > News Directory > News Article: fWo US Champion Voran Xias Makes Second Interfed Open Challenge!
fWo US Champion Voran Xias Makes Second Interfed Open Challenge!
June 30, 2003
Scott Powell
After going 1-1 with A! Bantam Champion Coral Avalon, Voran still feels he has a point to prove.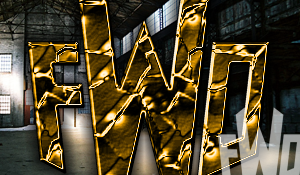 After placing an open challenge out to any secondary champion from another federation, fWo United States Champion 'Undeniable' Voran Xias faced off against Action! Bantam Champion Coral Avalon on last Friday night's Unleashed in two different matches. In the first one, for Avalon's Bantam Title, Avalon managed to get the victory.
However, in the second, for Voran's US Title, Voran honed in on Avalon's previously injured neck and worked it over until he delivered the Cradle Piledriver for the clean pinfall.
One would expect Voran to be disappointed at his failure to capture the A! Bantam Title, but Voran was nothing but smiles when we talked to him on Sunday evening.
"Were you watching the same show I was?" Voran asked us. "That little punk needed to pull out every trick in the book to keep me down for a three count, and then once I figured out his neck was injured, like a shark smelling blood, I went right to work on it and never looked back. He didn't even get any fucking offense in that second fall, it was pathetic! I proved my point....somewhat. There's still a bit more left to prove."
When we asked what Voran meant, he replied with-
"I'm giving out one last open challenge to any secondary champion from any other federation." Voran said. "This time, though, no two matches. Just ONE MATCH. Title-for-Title. One of us walks out with both titles, the other one leaves with nothing. And I guarentee you, I will be the one walking out with both."
Voran then went on to tell any prospective Champions NOT to respond to him directly, but to contact the fWo management and show up on Ruahh~!! tommorow night.
"I want it to be a surprise." Voran grinned.
Is Voran Xias becoming overconfident? Will he lose his fWo United States Title to an outsider on Monday Night Ruahh~!!, or will he become an unprecedented interfed double Champion? The only way to find out is to watch fWo Monday Night Ruahh~!!, live tommorow night on ABC!