This is not a joke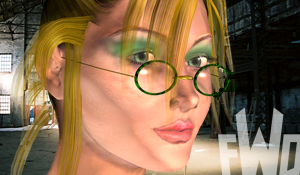 The Ivy League
This is not a joke
"Dammit, I can't keep serious with you people chanting that," he said.
He was set to win the Internet Championship and the fWo closed.
"Seriously...come on people," he said.
He was mostly known as the straight man in the exploits of the Merry Band of Idiots.
"All right, fine. Your Icon...is here," he said.
His two defining moments at Cyberslam have been winning the fWo Tag Team Championship with Black Quicksliver, and losing to Wretch to blow off a feud whose highlights included having five hundred pounds of hamburger meat and the aforementioned BQ dropped on him in 'the funniest prank ever.'
"Tonight...your Icon will become the thing of legend. And you fans will be a part of it," he said.
But there's something that nobody ever seemed to realize about the man in the Fun Pants, the Cult Icon, the guy that keeps Mr. T in a paycheck.
He was the underdog headed into his match with Kellen Kinkade... this guy who wrestled over hamburger meat for a year against the Immortal Champion, the Apocalypse Now of Professional Wrestling, and he pulled his go- to out of nowhere.
Jon Crisp is the 2003 fWo Wrestler of the Year, and there isn't a single moment during the run of the tournament where he didn't earn the honors.
I'm ashamed of the fact that in the time I spent in the fWo I had very few moments to get to know Jon Crisp. The extent of it was Eli Flair's second fWo Pay Per View match where he wrestled both Crisp and Wretch in a three way match designed to keep the two of them embroiled in their feud and to transition Eli out with Donaven Winters, and the tag team championship match before Meltdown that pitted WTF~! against Elijah and Creed. In both cases, he was a professional to the utmost degree, interested less in how he came off in the match than how the fans enjoyed the contest.
If anyone had a right to protest in- ring treatment, it was Crisp. He had been in the fWo for much longer than Eli and I, and was expected to put this newcomer with a lot of hype behind him over. If he had a problem with that, he never verbalized. And if he didn't, he was made of much more durable material than anyone had any right to be.
He seemed to have been groomed from the get - go for the path he took through the fWo. The man who would be Crisp was born Jon Gibson in Harrisburg, Pennsylvania, approximately six months before your humble Psycho Bitch. He had a typical childhood, right up to the point where he tried highschool wrestling as a way to form a relationship with his father. Elder Gibson wanted him to play football... and a tragic auto accident kept them both from achieving closure. A chance in the 1996 Olympics was also pulled out from under him due to a nagging knee injury and a serious illness to his mother.
In the fWo, Crisp learned what it was to be a team player, but he never learned that an appeaser is the one who hopes he's eaten last.
With his options seemingly disappearing by the day, Jon Crisp trained to become a professional wrestler. He had unmatched success wherever he wrestled, be it Tornado Championship Wrestling, Revolution Wrestling, or any number of indies where he honed his craft.
Even north of the border, still so new to the business, I can remember hearing stories of 'The Cult Icon' all the way down in Greensboro. Jon Crisp was an old- school mat wrestler who could cut a contemporary promo and have an audience sitting squarely in the palm of his hand. He was a natural babyface, someone with enough attitude for the marks to get behind and enough mat wrestling skill for the smarts to worship as an Uncrowned God. I know for a fact that Merritt was interested. Unfortunately, there were certain... mitigating circumstances... as there always are in the CSWA, that kept him from making the calls he wanted to make, and Crisp ended up in the fWo.
For two years, I'm sure he's questioned that move.
I'm not privy to a lot of things that went on in my first few months with the company - Chris Universal played things very close to his chest, he wasn't as open with the direction of the company as the current production managers are. Suffice to say, the first time I was able to see the fWo's television show I immediately started watching as many archived episodes as I could, and I saw what happened to the man who set Tornado Championship Wrestling on its ear.
Nothing.
It wasn't his fault. Remember, the fWo fans were, by and large, not the ones who watched TCW or Revolution, just like they weren't the ones who regularly tuned in to the CSWA. This was 2001, where more emphasis was placed on a semi- intelligent catchphrase or big plastic boobs than someone who could make you think, someone who could make you hold your breath on the edge of your seat for a sixty minute Marathon Match. Eli Flair and I survived because we had a connection to the old school, but threw in enough blood, sweat, and beers to keep that level of respect at a highwater mark.
Jon Crisp was just another former World Champion from another company, far too talented to be wasted the way he was but not well known enough for those placed above him to work with. And that was a tragedy, in and of itself. And by the time Chris Universal realized that enough to plan a good portion of 2002 around him, with victories in both the Internet Title Tournament and Wrestler of the Year tournament, a mysterious Board bought out the fWo's stock and dumped the entire roster.
If I was standing next to Jon Crisp when he got the call, I bet his reaction was "Ain't this just f**king typical?"
But the restart seemed to be just what the doctor ordered for the Cult Icon, as much as anyone else. He headed off to 21W, where he was given plenty of time to shine as the leader of the Cult Heroes. He took part in the legendary IMMORTALS event where he walked out of his match, in order to give the rest of his team their moment.
Jon Crisp had the chance to be IMMORTAL and he walked away for the good of the company. Are we noticing a theme here?
Back in the fWo, he formed a successful and popular tag team with Black Quicksilver that took the World Tag Team Championship from my boys, Team EQ, at Cyberslam. Life seemed to be rolling along fine for Crisp, with one notable exception.
The fact that he's Jon Crisp.
I can't pretend to know what it's like to have the rug constantly pulled out from under me in my professional wrestling career. Call it ego, experience, talent, whatever - every promoter I've worked for has seemed to recognize the wisdom in letting me work at my own style. In some cases, like Chad Merritt or Silver Fox, I've become something of a confidant to the man in charge due to my utter objectivity toward the business and the way I can see how a program can run. I've always had the control in my career, even when I was nearly shot to death I was allowed to keep the fans updated through this very column. Jon Crisp has never known that kind of control. From the earliest days with the tragedy that struck his parents, to the number of promising programs that got yanked out from under him.
The program with Monte. His first run at KVC's Internet Championship. Davis and FtfWo. Wretch and the hamburger meat.
The very fact that Crisp continued on in his career despite everything that Chris Universal put him through, be it by action or omission, is a testament to the indominable will of the man to survive. A lesser man would've given up. Hell, I probably would've given up.
Jon Crisp didn't give up.
Now, Jon Crisp is your 2003 fWo Wrestler of the Year.
I'm not going to say that it's about time.
I'm not going to say that he deserves this.
I'm not going to call him the Underdog Victor.
What I'm going to do is speak to Jon Crisp directly. Jon, for two years now you've barely scratched the surface of your potential in the fWo. As of last night, the whole world is listening to you. This is what you've been waiting for.
If you've got anything in common with the rest of this profession, you've been working on what you would say in this moment for the past two years.
You have the floor, Cult Icon Jon Crisp..