fWo Wrestling Home > News Directory > News Article: Former PIW Superstar to Speak Exclusively with FWO.com
Former PIW Superstar to Speak Exclusively with FWO.com
January 22, 2009
FWO.com Webmaster
One of FWO's newest faces agrees to a sitdown interview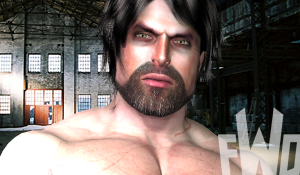 On the last fWo ReAction, a heated, bloody, and brutal brawl between two Hardcore behemoths was, seemingly, built out of nowhere when current fWo Hardcore Champion Graphic Violence and former PIW wrestler Krow locked horns throughout the entirety of the FWO's 2-hour long show. After destroying a variety of equipment, injuring a slew of stage hands, and attacking fellow FWO wrestlers and alumni; the FWO was left with quite a large bill at the end of the night from both staff of FWO and the Key Arena.
While the battle was fueled by hatred and nearly annihilated an otherwise stellar show, the question remains; where does the hatred comes from? From what could be gathered through their personal dialogue, during the backstage brouhaha, the two men are definitely not strangers. Apparently, the two have hospitalized one another in the past, but from where?
The closest the two men ever came to facing off inside of a Squared Circle was during their stints in the now-defunct Jolt Wrestling promotion. There, Graphic Violence became Jolt X-Treme Champion during one of the company's many tenures. However, due to a contract dispute, GV vacated the title of his own accord. Ironically enough, the next X-Treme Champion to follow was none other than Krow (who won the belt in a tournament). While GV may have preceded Krow in the title's history, the two have never faced off in a squared circle, but were apart of the same company at one point or another. Does their hatred stem from some deep-rooted backstage altercation from 6 years ago? Or does it stem from elsewhere?
FWO.com is looking for answers straight from the source. Exclusively on FWO.com, reporter Kristin Jacobs will sit one-on-one with one of the most devilish of professional athletes Krow. This will be the self-proclaimed "Satanic God"'s first FWO interview since his arrival.
© FWO 2009
Related Articles