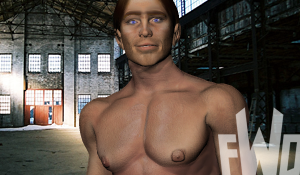 Speculation has been swirling throughout Cyberspace in the aftermath of Meltdown, where Flying Frenchie became the 2009 Meltdown Champion. However, the cold open to Day Two regarding his former protégé have left many scratching their heads.
We have received word from FWO insiders that the death of Brawn's father was in fact not a work and The Wrought Iron Kid was on a plane to Iowa to attend the funeral. He said he was "thrilled and impressed" that his former mentor came out on top, but his disposition was visibly sour.
While his reaction to the tragic news was omitted from the Day One broadcast, sources say Brawn physically collapsed backstage. When he recovered, the 22-year old then stormed furiously through the backstage area, leaving overturned tables and broken equipment in his wake. His outburst became so extreme, security had to restrain and escort him from the building.
***
Photographs have been emerging on the internet from the lucky fan who snatched Brawn's cast at the reAction leading up to Meltdown. Several high resolution pictures revealed lengthy messages from his FWO peers scrawled on his cast:
"You look like a tanned James Van Der Beek" - Unknown
"Get better soon! The Brawny paper towels with your picture rule! I never was a big fan of Jeff Garvin, beat him up for me when you get better! Hugs! -Michelle"
"Wrestling 101 was just the stable name. You don't actually need each of us to teach you." - Pierre
"Pussy." - Callie Urban
"Your paper towels are not as absorbent as advertised and I am filing a complaint." - Mike Bear
"Katame is wrong for dealing with you. A complete himatsubushi. P.S. Don't trust the firey thunder akujo. She is a senmitsuya." -The Ryuujin, aka X3
"At least you're not going to be using it for the next 3 years. By the way, go fuck yourself." -- Keith Scott Zimmerman, the Only Wrestler That Matters, the Wo Internet Champion, the 2009 Meltdown winner, uncrowned World Champion, and Humblest Man To Ever Walk the Face of the Earth
:( --Leigh Landers
"Hi. I'm Max Danger. I was told to write here." -- Max Danger
"i guess stroking frenchie's dick to get over is rougher than it looks." -killjoy
"Here's to the first of many breaks in your career... and all the casts you get to look forward to putting on 'em." -- Alias